INGENIOUS aims to design and evaluate the Next-Generation IoT (NG-IoT) solution, with emphasis on 5G and the development of Edge and Cloud computing extensions for IoT, as well as providing smart networking and data management solutions with Artificial Intelligence and Machine Learning (AI/ML). The project embraces the 5G Infrastructure Association (5G IA) and Alliance for Internet of Things Innovation (AIOTI) vision for empowering smart manufacturing and smart mobility verticals.
INGENIOUS consortium is formed by
21 partners from 8 countries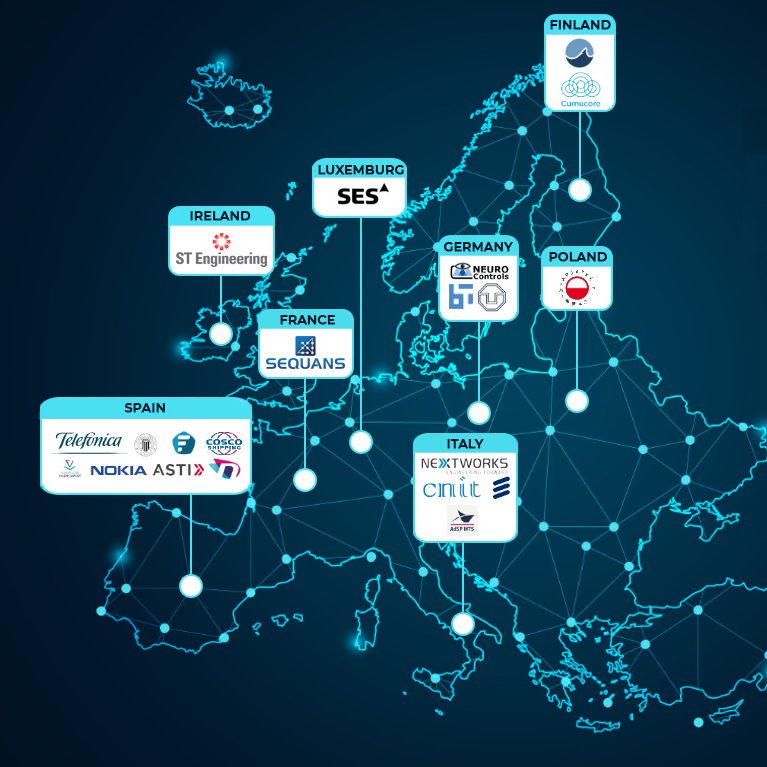 <!—-><!—->
<!—->
<!—->
<!—->
<!—-><!—->
<!—->
<!—->
<!—->
The iNGENIOUS Project had a strong finish at our final review on the 6th of July. The day included talks on the achievements and innovations produced, as well as 6 live and 2 recorded demonstrations of the innovations developed through the course of the project. The demonstrations focused around the project's 6 use cases: Factory, Port Entrance, AGV, DVL, and Transport. The live demonstrations included E2E network slice lifecycle management with ML-assisted automated slicing from […]
<!—-><!—->
<!—->
<!—->
<!—->
<!—-><!—->
<!—->
<!—->
This week iNGENIOUS IoT was present in EUCEI Event organized by EUCloudEdgeIoT! Nuria Molner summarized the lessons learned along the project, the infrastructures deployed in the port of Valencia and how Universitat Politècnica de València (UPV) will continue cooperating with some partners within the UNICO 5G I+D AVANZANDO-5G-GEMELOS DIGITALES project (TSI-063000-2021-112, TSI-063000-2021-113, TSI-063000-2021-114 supported by the Spanish Ministry of Economic Affairs and Digital Transformation and the European Union-NextGenerationEU) to keep evolving these infrastructures towards the full digitalization of smart ports.
<!—-><!—->
<!—->
<!—->
<!—->
<!—-><!—->
<!—->
<!—->
After more than two years of work and effort by all collaborating entities and organizations, the iNGENIOUS project comes to an end in March 2023. The project began in October 2020 with a consortium formed by 21 collaborators from 8 different countries: Spain (Universitat Politècnica de València, Nokia, Telefónica I&D, Fivecomm, ASTI Mobile Robotics [ABB], Cosco Shipping Lines, Fundación Valencia Port, Neurodigital Tecnhologies), Germany (Technische Universität Dresden, Barkhausen Institut, Neurocontrols), Italy (Ericsson, Port of Livorno, […]
<!—-><!—->
<!—->
<!—->
<!—->
<!—-><!—->
<!—->
<!—->
The maritime industry is emerging as the next big thing in terms of IoT applications. The maritime sector benefits greatly from IoT, improving logistics, higher confidence in the product and delivery supply chain quality, safety and resulting in lower costs.
<!—-><!—->
<!—->
<!—->
<!—->
<!—-><!—->
<!—->
<!—->
The AI/ML innovation scenario for the end-to-end network slice optimization in iNGENIOUS targets the trigger of a pre-emptive auto-scaling of local-edge and central User Plane Functions (UPFs)
<!—-><!—->
<!—->
<!—->
<!—->
<!—-><!—->
<!—->
<!—->
Sensorial XR has been used in the iNGENIOUS to improve the overall interaction with an AGV (Autonomous Guided Vehicle) under different circumstances and requirements.
Prof. David Gomez-Barquero
Universitat Politecnica de Valencia
iTEAM Research Institute
Camino de Vera s/n
46022 Valencia, Spain
Barkhausen Institut
WÜRZBURGER STR. 46,DRESDEN 01187, Germany