INGENIOUS aims to design and evaluate the Next-Generation IoT (NG-IoT) solution, with emphasis on 5G and the development of Edge and Cloud computing extensions for IoT, as well as providing smart networking and data management solutions with Artificial Intelligence and Machine Learning (AI/ML). The project embraces the 5G Infrastructure Association (5G IA) and Alliance for Internet of Things Innovation (AIOTI) vision for empowering smart manufacturing and smart mobility verticals.
D2.1 – Use cases, KPIs, requirements MAR..2021
D2.2 – System and architecture integration (Initial) NOV.2021
D2.3 – Regulatory framework and business models NOV.2021
D2.4 – System and architecture integration (Final) SEPT.2022
D2.5– Regulatory framework and business models (Final) FEB.2023
WP3: Forthcoming IoT devices
D3.1 – Communication of IoT Devices MAY 2021
D3.2 – Proposals for Next generation of connected IoT modules NOV.2022
D3.3 – Secure, private and more efficient HW solutions for IoT devices DEC.2022
D3.4 – Bio-haptic and XR-enabled IoT devices JUL.2022
WP4: Future IoT network solutions
D4.1 – Multi-technologies network for IoT APR.2021
D4.2 – Smart NR and NG-RAN IoT designs JAN.2022
D4.3 – Core network automation design for 5G-IoT FEB.2022
D4.4 – Service orchestration at the edge MAR.2022
D4.5 – Smart end-to-end iNGENIOUS IoT system NOV.2020
WP5: SmART DATA MANAGEMENT ANALYTICS
D5.1 – Key technologies for IoT data management benchmark JUN.2021
D5.2 – Baseline iNGENIOUS data management platform MAR.2022
D5.3 – Final iNGENIOUS data management platform JAN.2023
WP6: TESTBED INTEGRATION, VALIDATION AND DEMONSTRATION
D6.1 – PoC development, platform and testbed integration SEPT.2021
D6.2 – Initial planning for testbeds JAN.2023
D6.3 – Final evaluation end validation MAR.2023
WP7: DISSEMINATION, STANDARDISATION AND EXPLOITATION
D7.1 – Data management plan MAR.2021
D7.2 – Mid-term dissemination, standardisation and exploitation DEC.2021
D7.3 – Final dissemination, standardisation and exploitation MAR.2023
INGENIOUS consortium is formed by
21 partners from 8 countries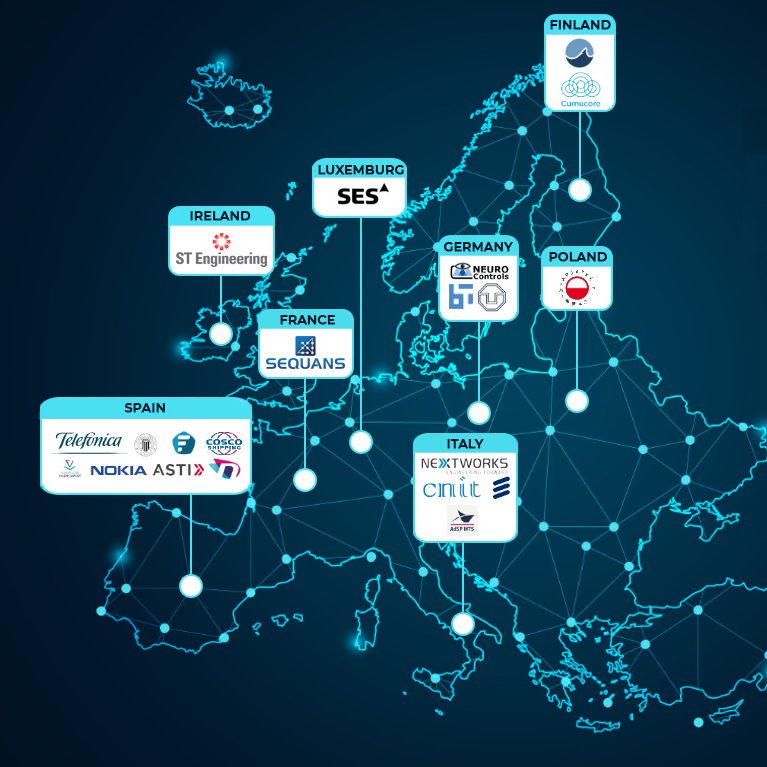 iNGENIOUS participation in the EU-IoT Training Workshop Series: AIoT and Edge Machine Learning
May 21st Jussi Poikonen from Awake.AI will be presenting Applications of Machine Learning and Edge Computing in Maritime Logistics
iNGENIOUS participation at GLOBECOM 2021
It's official: iNGENIOUS and ASSIST-IoT will be jointly organizing a workshop at the 2021 IEEE Global Communications Conference this December
More details to come shortly!
Towards the connected ports of the future
The Universitat Politècnica de València is leading iNGENIOUS IoT in order to improve logistics in port facilities, and thus move towards the "connected ports of the future".
<!—-><!—->
<!—->
<!—->
<!—->
<!—-><!—->
<!—->
<!—->
Predictive Analytics for Port Optimization By Awake AI The iNGENIOUS project considers next generation IoT solutions for the universal supply chain, where focus is especially around maritime logistics (sea and hinterland transports and port operations). There, sea ports are important nodal points, whose operational efficiency has a significant effect on the surrounding multimodal logistics. The table below presents examples of IoT, edge processing, and analytics applications in maritime logistics around port operations. Use cases in […]
<!—-><!—->
<!—->
<!—->
<!—->
<!—-><!—->
<!—->
<!—->
The port is not smart just because of its use of electronic (digital) documents in its processes, instead of paper-based ones. The port is smart if, thanks to emerging technologies (e.g. blockchain, Internet of Things, Artificial Intelligence, etc.), it has re-engineered its processes, increasing their levels of speed, efficiency, effectiveness, sustainability and performance.
<!—-><!—->
<!—->
<!—->
<!—->
<!—-><!—->
<!—->
<!—->
During the financial crisis of 2008 the trust in financial institutions, especially banks, and the governments eroded. The idea to opt-out of the traditional monetary system based on faith in central banks gained traction. The idea behind bitcoin is to use proof-of-work to establish consensus on the state of the whole transaction ledger by means of a distributed method.
Prof. David Gomez-Barquero
Universitat Politecnica de Valencia
iTEAM Research Institute
Camino de Vera s/n
46022 Valencia, Spain
Barkhausen Institut
WÜRZBURGER STR. 46,DRESDEN 01187, Germany