INGENIOUS aims to design and evaluate the Next-Generation IoT (NG-IoT) solution, with emphasis on 5G and the development of Edge and Cloud computing extensions for IoT, as well as providing smart networking and data management solutions with Artificial Intelligence and Machine Learning (AI/ML). The project embraces the 5G Infrastructure Association (5G IA) and Alliance for Internet of Things Innovation (AIOTI) vision for empowering smart manufacturing and smart mobility verticals.
INGENIOUS consortium is formed by
21 partners from 8 countries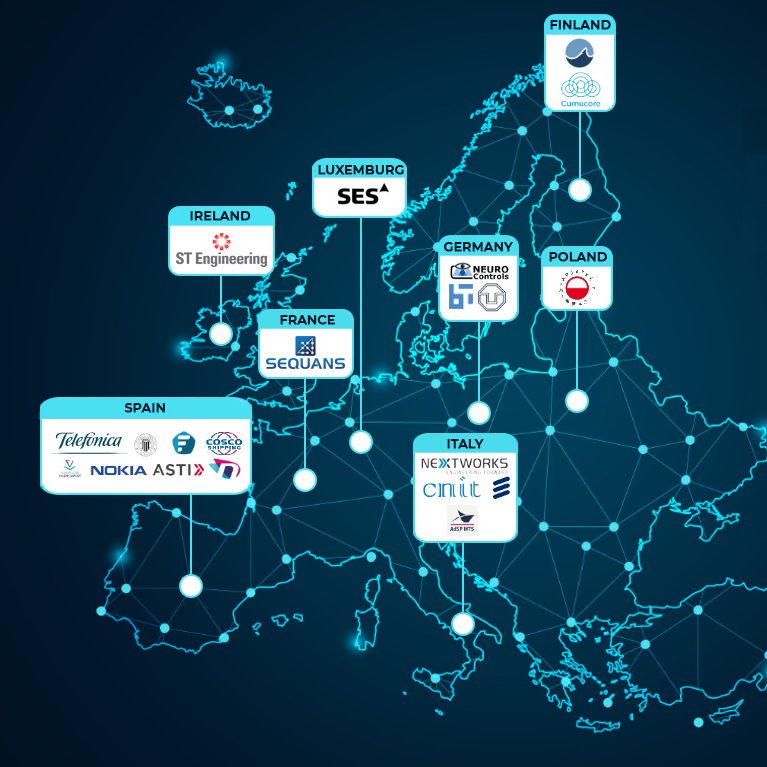 <!—-><!—->
<!—->
<!—->
<!—->
<!—-><!—->
<!—->
<!—->
After almost two years from the beginning of the iNGENIOUS project, the wait came to an end. Barkhausen Institut and Technische Universität Dresden hosted the first on-site Face to Face iNGENIOUS meeting.
<!—-><!—->
<!—->
<!—->
<!—->
<!—-><!—->
<!—->
<!—->
Join iNGENIOUS at the ACNS conference on Wednesday June 22 2022 from 9am to 1pm CEST
<!—-><!—->
<!—->
<!—->
<!—->
<!—-><!—->
<!—->
<!—->
Join iNGENIOUS at IOTWEEK on Thursday 23 June from 09:00 to 10:30 CEST
<!—-><!—->
<!—->
<!—->
<!—->
<!—-><!—->
<!—->
<!—->
This use case aims at providing E2E asset tracking via satellite backhaul from the IoT RAN to the corresponding data/control center, enabling real-time/periodic monitoring predetermined parameters (temperature, humidity, accelerometer, etc.) of shipping containers when they are sailing on the sea, while terrestrial IoT connectivity is provided when the ship approaches the port.
<!—-><!—->
<!—->
<!—->
<!—->
<!—-><!—->
<!—->
<!—->
ICT innovation is considered the turnkey to enable Industry 4.0 processes and paves the ground to sustainable growth
<!—-><!—->
<!—->
<!—->
<!—->
<!—-><!—->
<!—->
<!—->
This use case focuses on enhancing the situational understanding of events in maritime ports and terminals by means of collecting and aggregating data processing. A subsequent optimization and prediction performed on this data will reduce the time that trucks spend inside the port and terminal facilities.
Prof. David Gomez-Barquero
Universitat Politecnica de Valencia
iTEAM Research Institute
Camino de Vera s/n
46022 Valencia, Spain
Barkhausen Institut
WÜRZBURGER STR. 46,DRESDEN 01187, Germany