INGENIOUS aims to design and evaluate the Next-Generation IoT (NG-IoT) solution, with emphasis on 5G and the development of Edge and Cloud computing extensions for IoT, as well as providing smart networking and data management solutions with Artificial Intelligence and Machine Learning (AI/ML). The project embraces the 5G Infrastructure Association (5G IA) and Alliance for Internet of Things Innovation (AIOTI) vision for empowering smart manufacturing and smart mobility verticals.
D2.1 – Use cases, KPIs, requiremen MAR..2023
D2.2 – System and architecture integration (Initial) NOV.2021
D2.3 – Regulatory framework and business models NOV.2021
D2.4 – System and architecture integration (Final) SEPT.2022
D2.5– Regulatory framework and business models (Final) FEB.2023
WP3: Forthcoming IoT devices
D3.1 – Limitations and improvement for the IoT devices communications MAR.2021
D3.2 – Proposals for Next generation of connected IoT modules NOV.2022
D3.3 – Secure, private and more efficient HW solutions for IoT devices DEC.2022
D3.4 – Bio-haptic and XR-enabled IoT devices JUL.2022
WP4: Future IoT network solutions
D4.1 – Multi-technologies network for IoT APR.2021
D4.2 – Smart NR and NG-RAN IoT designs JAN.2022
D4.3 – Core network automation design for 5G-IoT FEB.2022
D4.4 – Service orchestration at the edge MAR.2022
D4.5 – Smart end-to-end iNGENIOUS IoT system NOV.2020
WP5: SmART DATA MANAGEMENT ANALYTICS
D5.1 – Key technologies for IoT data management benchmark JUN.2021
D5.2 – Baseline iNGENIOUS data management platform MAR.2022
D5.3 – Final iNGENIOUS data management platform JAN.2023
WP6: TESTBED INTEGRATION, VALIDATION AND DEMONSTRATION
D6.1 – PoC development, platform and testbed integration SEPT.2021
D6.2 – Initial planning for testbeds JAN.2023
D6.3 – Final evaluation end validation MAR.2023
WP7: DISSEMINATION, STANDARDISATION AND EXPLOITATION
D7.1 – Data management plan MAR.2021
D7.2 – Mid-term dissemination, standardisation and exploitation DEC.2021
D7.3 – Final dissemination, standardisation and exploitation MAR.2023
INGENIOUS consortium is formed by
21 partners from 8 countries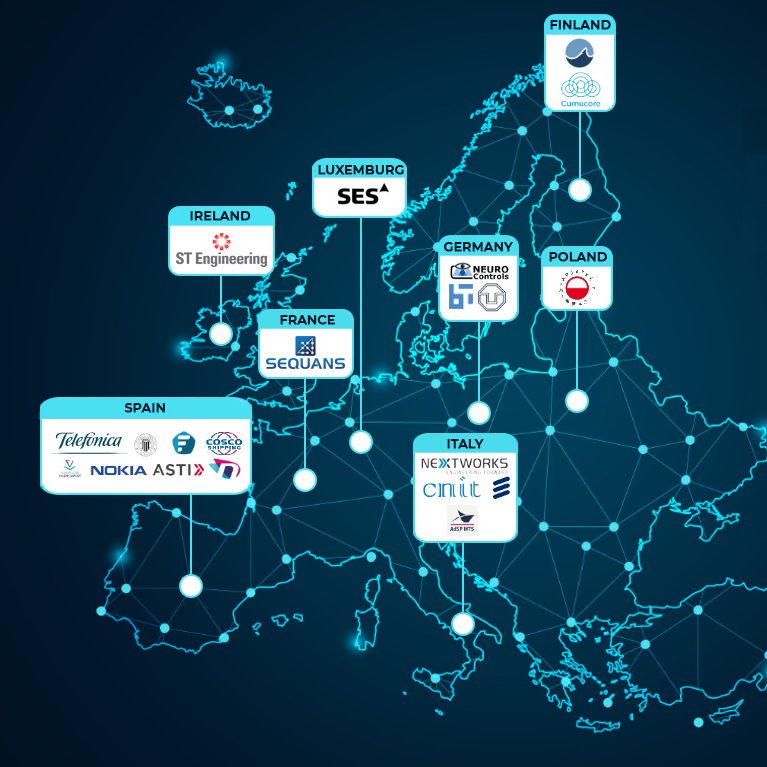 Towards the connected ports of the future
The Universitat Politècnica de València is leading iNGENIOUS IoT in order to improve logistics in port facilities, and thus move towards the "connected ports of the future".
iNGENIOUS participation at CTAC 2020
Jose Luis Cárcel (Fundación Valenciaport) gave a presentation about the 'Unlocked Potential of 5G at Maritime Ports and Terminals' at the Container Terminal Automation Conference 2020 organized by Port Technology in a virtual manner.
<!—-><!—->
<!—->
<!—->
<!—->
<!—-><!—->
<!—->
<!—->
During the financial crisis of 2008 the trust in financial institutions, especially banks, and the governments eroded. The idea to opt-out of the traditional monetary system based on faith in central banks gained traction. The idea behind bitcoin is to use proof-of-work to establish consensus on the state of the whole transaction ledger by means of a distributed method.
<!—-><!—->
<!—->
<!—->
<!—->
<!—-><!—->
<!—->
<!—->
The principle approach of the iNGENIOUS project is to exploit the wealth of data provided by the Internet of Things (IoT) for the entire supply chain. The cross-layer architecture is derived from the functional and non-functional requirements that have been identified within the use cases of the project.
<!—-><!—->
<!—->
<!—->
<!—->
<!—-><!—->
<!—->
<!—->
We are at the beginning of the IoT period, and the next-generation IoT will need to fully exploit the disruptive advancements that are under standardization in 5G.
Prof. David Gomez-Barquero
Universitat Politecnica de Valencia
iTEAM Research Institute
Camino de Vera s/n
46022 Valencia, Spain
Barkhausen Institut
WÜRZBURGER STR. 46,DRESDEN 01187, Germany