Maritime: The Next Big Application for Satellite-based IoT
By ST Engineering iDirect
The Internet of Things (IoT) is enjoying a rapid rise to prominence across many different sectors, including industrial, healthcare, agriculture and residential to name a few. In a world that is literally brimming with use cases, both established and emerging, IoT is set for quite a future. Just a quick look at the analyst forecasts bears this out. According to Markets and Markets, the Satellite IoT market is expected to grow from USD 1.1 billion in 2022 to USD 2.9 billion by 2027, at a CAGR of 21.9% during the forecast period. Satellite technology is the only solution that delivers complete coverage for IoT enabling companies and organizations to reach places no other technology can. It's important to grasp the enormous potential impact this will have across many market sectors.
The core value of IoT is best understood as operational efficiency, not merely connectivity. The global industry is looking to IoT to transform business and improve the bottom line through real-time monitoring of thousands of assets, increases in efficiency, reduced waste, increases in output, and improvements in safety.
The maritime industry in particular is emerging as the next big thing in terms of IoT applications. The maritime sector benefits greatly from IoT, improving logistics, higher confidence in the product and delivery supply chain quality, safety and resulting in lower costs. Critical data generated includes meteorological, maintenance, voyage tracking and cargo status including alerts on possible tampering with the cargo container for example.
So, where does satellite fit into IoT? It's inherent capabilities, such as its ability to reach remote areas, its ability to scale, to extend coverage for other providers, make Satellite an essential part of a hybrid network needed to support an interoperable and integrated IoT system.
Mobility markets, like maritime, can present a huge challenge for users that don't have access to satellite-based IoT as coverage is often patchy or non-existent. Until recently, to fuel Satellite IoT applications in Maritime, there's been a reliance upon more expensive L-Band or VSAT products delivering data rates much higher than necessary for IoT and thus are not always cost-effective for infrequent low-medium network throughputs. Today, with the emergence of more optimized IoT solutions around medium-to-low data rates and by leveraging low-cost, small form factor and data optimized Ku and Ka band solutions the Maritime market has much more data-efficient and cost-effective alternatives.
Growth Drivers
Maritime demand is generally driven by cargo tracking, asset monitoring, telematics, fleet management, border control, safety, scientific research, and ocean monitoring services.
The use of IoT in maritime can be further subdivided into three sub-verticals: Cargo, Cruise and Ferry and Fishing. For cargo, IoT is often used for asset tracking and monitoring. It also is used to enhance fleet management and efficiency for logistics, supply, maintenance and operations. While satellite is already in use on many large vessels in the fishing, cruise and ferry, and leisure markets, it is expected to grow as vessels add dedicated equipment for IoT sensor data and IoT connectivity. One such example was recently demonstrated as part of the H2020 iNGENIOUS project intermodal asset tracking via IoT and satellite use case, where industry partners came together to demonstrate how IoT sensor data was being tracked from a shipping container on land and at sea over satellite. In the demonstration the ST Engineering iDirect 5G-enabled satellite system provided the satellite backhaul connectivity for the IoT devices to connect to the cloud. The 5G-enabled satellite system included a satellite modem that behaved like a 5G UE to an integrated 5G core network, which was responsible for operating the satellite network.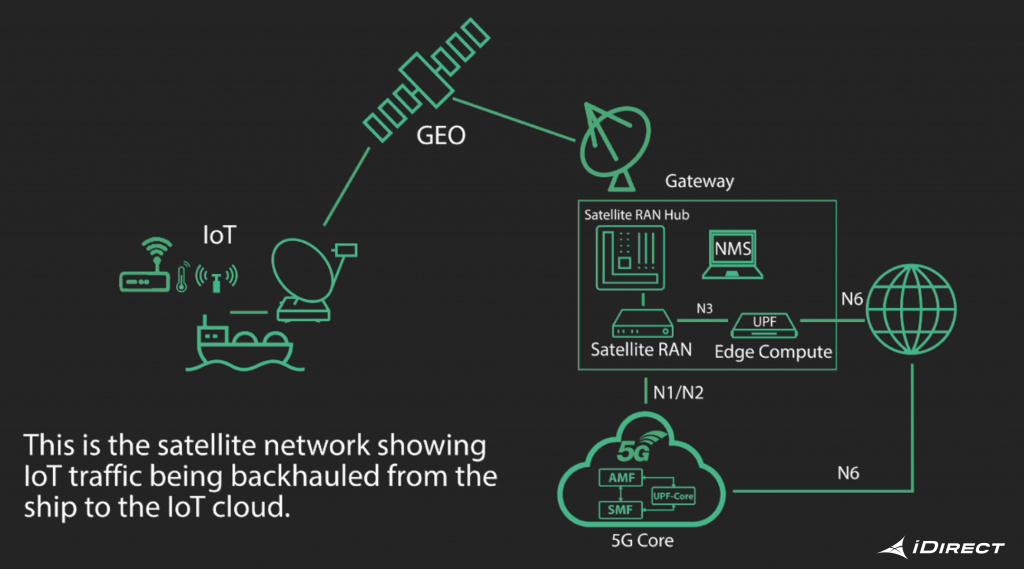 The successful demo can be watched here.
Not only cargo vessels benefit from the satellite IoT market, also in other maritime markets satellite IoT takes on an important role. For example, in the fishing market,Vessel Monitoring Systems (VMS) have greatly increased the efficiency of monitoring, control, and surveillance vessels. In the last few years, several countries have mandated the use of VMS to monitor fishing vessel activity and to ensure these vessels actively report on catches to the fisheries management authority. In terms of maritime safety, IoT is utilized to trigger alarms, tracking and border security monitoring.
Another application within the fishing sector that is benefiting from IoT is that of Illegal Unregulated Unreported Fishing (IUU). IUU fishing is a global issue that threatens the sustainability of the industry and environment. With IoT however organizations can better monitor fishing operations and combat IUU fishing activities. The previously mentioned VMS system with integrated satellite, can help fishery agencies to collect information relating to the position, speed, course, and identification of connected vessels on a regular basis. The VMS can generate alerts for operations in non-authorized areas.
Fishing vessels are replacing traditional paper logbooks with electronic logbooks. Crew use their Wi-Fi enabled phones or tablets to record catches, transshipments, landings, and sales, and they transmit this information over satellite to the appropriate authorities based on policy.
IoT services can also provide personal communication services to crew, augmenting other mandated systems. This also enables the fisheries to send weather alerts, environmental conditions, and maritime traffic information to crew.
Simplifying Satellite IoT
Maritime is a market poised to take advantage of the many benefits of IoT. However, the thought of setting up a new IoT system can be daunting. That's where ground segment providers are rushing to offer more flexible IoT Solutions leveraging existing hub infrastructure while integrating with new smaller weight terminals and IoT waveforms optimized for small-to-medium data rates. This reduces the complexities associated with creating an IoT platform, allowing service providers to quickly launch their service and capitalize on the IoT market opportunity.
With so many positives to glean from satellite IoT, the maritime sector can look forward to heightened efficiency, sustainability, lower costs and an improved bottom line.
For more information about Satellite IoT market opportunities read our whitepaper and market brief on our market website. You can find more information on our Satellite IoT Solutions on our IoT product website.